Handcrafted in the USA - Stock covers ship within 5 business days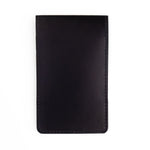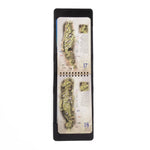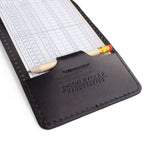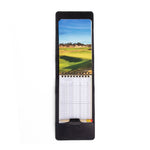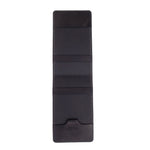 Yardage Book Cover - Classic Black Leather
Regular Price

$85.00

Sale Price

$85.00

Regular Price

Unit Price

per
The Classic Black Leather Yardage Book Cover will be the perfect compliment to your rounds for years to come. Designed to hold standard PGA Tour and USGA yardage books, scorecard, and pencil. This yardage book cover comfortably fits in your back pocket.
All of our yardage book covers and scorecard holders are handcrafted in the USA
VERSATILE: Designed to fit yardage books and scorecards up to 4" wide
DURABLE: Leather straps and pencil holder are made of leather and built to last. They will not fray the way elastic will over time.
GUARANTEE: 100% satisfaction guarantee
DIMENSIONS: when folded - 4.5" x 7.5"
Featuring English Bridle Vegetable Tanned Leather from the Wickett & Craig Tannery in the US. They are well known for their superior vegetable tanned leathers since 1867. 
This veg tan leather is their top grade, it is full grain and has a nice supple feel with a small amount of firmness. The grain has a natural beauty and depth to color. Edges are burnished, dyed and waxed for a glassy finish
Monograms are heat stamped into the bottom right corner on the front of the cover. Character height is 1/4 inch. Six character limit. Uppercase letters and numbers only. 
Click "yes" under the "Complimentary Monogram" section under the product title to have your yardage book cover monogrammed.
We love personalizing our leather for our people! Custom orders allow us to get creative and explore a variety of color schemes.
We offer a variety of leather and thread colors. We are able to monogram and add custom logos. 
Monogramming is complimentary and can be purchased directly through our product pages.
Custom logos require a one-time setup fee starting at $50 per logo.
Personalizing your Brickley Golf merchandise is perfect for tournament prizes, special occasions, groomsman gifts, bachelor parties, and annual golf getaways. 
Please know that we will not use copyrighted or trademarked artwork without consent from the owner.
For questions or larger orders please contact us at jeff@brickleygolf.com and we will send you a quote within 24-hours on Monday-Friday and up to 48-hours on Saturday-Sunday. 
CONDITION IT
You have the option to condition your own leather. Our product is conditioned when crafted, however, proper conditioning of your leather is recommended and is one of the best way to ensure your product will retain the quality appearance and durability. Over time, leather may lose its moisture and become hard and inflexible. Conditioning your product will help maintain the flexibility of your leather for your scorecard holder and/or yardage book cover.  We recommend Smith's Leather Balm.  Check them out!
DRY IT
If you are playing a round of golf in the rain, it is important that you dry your scorecard holder or yardage book cover properly. This entails a natural, slow process. Our recommendation to you, is to lay it out, in room temperature, and let the drying take place naturally and slowly. If you insist on a fast-drying process for your leather, you will damage the chemical structure of the leather. It is also very important, that if you spill any liquid on your leather, to wipe it up immediately.
CLEAN IT
Clean your leather as you desire. This should be done with a soft cloth or micro-fiber cloth. To remove dirt from the exterior of leather we recommend Fiebing's Saddle Soap. This leather cleaner is to be used in moderation by placing a dime size amount on a damp cloth and applying to your scorecard holder or yardage book cover.
There you go!  Proper care will keep your yardage book cover and scorecard holders looking solid year after year, round after round.  Which means you will be looking good, and if you look good, you feel good, you play good.